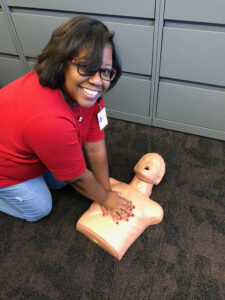 Val, a military veteran, worked at the recycling center for 2 months through Goodwill Industries of Greater Grand Rapids' TWE (Temporary Work Experience) Program. After learning about Goodwill's mission, Val became interested in starting a career at Goodwill. She pursued a full-time job in e-commerce with Goodwill's online store, ShopGoodwill. Val was hired in and her manager Renate recalls "Val was always eager to learn and take on new responsibilities. Her positive attitude helped those around her."
A couple years into the job, Val craved another professional challenge. She began volunteering at a local Veteran's organization. This experience helped Val recognize her passion for helping others, motivating her to set a goal to become a peer support specialist.  With the help of a grant for veterans, Val took the course and passed it with an A, providing her the credentials to become a certified peer support specialist.
After accomplishing this goal, Val set another goal to further her education to become a community health worker which would open further job opportunities. Val spoke with her manager at Goodwill about wanting to go back to school.  Renate was extremely encouraging, supportive, and connected her immediately with Goodwill's Director of Development and Learning. Through discussions, Val worked on a career plan, utilized Goodwill education reimbursement dollars towards her courses and received four hours paid study time each week. Renate worked with Val on accommodating her work schedule for her classes and checked in on her often. With the support and encouragement from management and her coworkers, Val proudly completed her training and became a certified community health worker.
Val knew she wanted to find a job that aligned with the new certification, but also wanted to continue working for Goodwill because she loved the supportive environment. She communicated her desire to work in the mission side of the organization. A position opened shortly after in the Certified Nurse Aide Training Program.  Val was hired full-time as a Career Coach.
Val said "I like everything, every aspect of my current job. Everyone has been patient and helpful. No one brushed me off like I have been at past jobs."
In Val's new position she works one on one with trainees in the Certified Nurse Aide Program. Val helps the trainees find employment after they complete the training and stays in contact for one year to make sure things are going well. Val's new manager Amanda stated, "From the moment Val joined our Certified Nurse Aide Training team she has demonstrated a 'let's do this!' attitude, and brought a refreshing energy to our team."