Sustainability has always been at the heart of Goodwill's work and mission. Goodwill organizations help communities extend the life of usable items, lessen the amount of material sent to landfills, and decrease reliance on the extraction and production of virgin materials. Goodwill's network of organizations help support services for millions of people annually, and delivers positive social and environmental outcomes for the global community. As a key player in the modern reuse economy, our operational model relies on systems to reuse and recycle secondhand material.
Goodwill GR Impact
In 2021, we moved over 12 million lbs. into salvage/recycling markets.
6.8 million lbs. of textiles
.8 million lbs. of paper products
1.8 million lbs. of metals & electronics
2.9 million lbs. of other materials
Life Cycle of a Donation
You donate items to Goodwill. We accept everything from clothing and accessories to housewares, furniture and cars. Our conveniently located stores are staffed with friendly Goodwill employees who will issue a donation receipt, upon request for tax purposes.
Your donation is processed for resale and sold by Goodwill. Proceeds from the sale of your donation go towards our job training and placement programs. More specifically, $.91 of every $1 goes towards our mission!
Goodwill participants secure meaningful employment. Goodwill programs assist individuals with barriers to employment develop independence and employability skills, and become contributing members of our local workforce.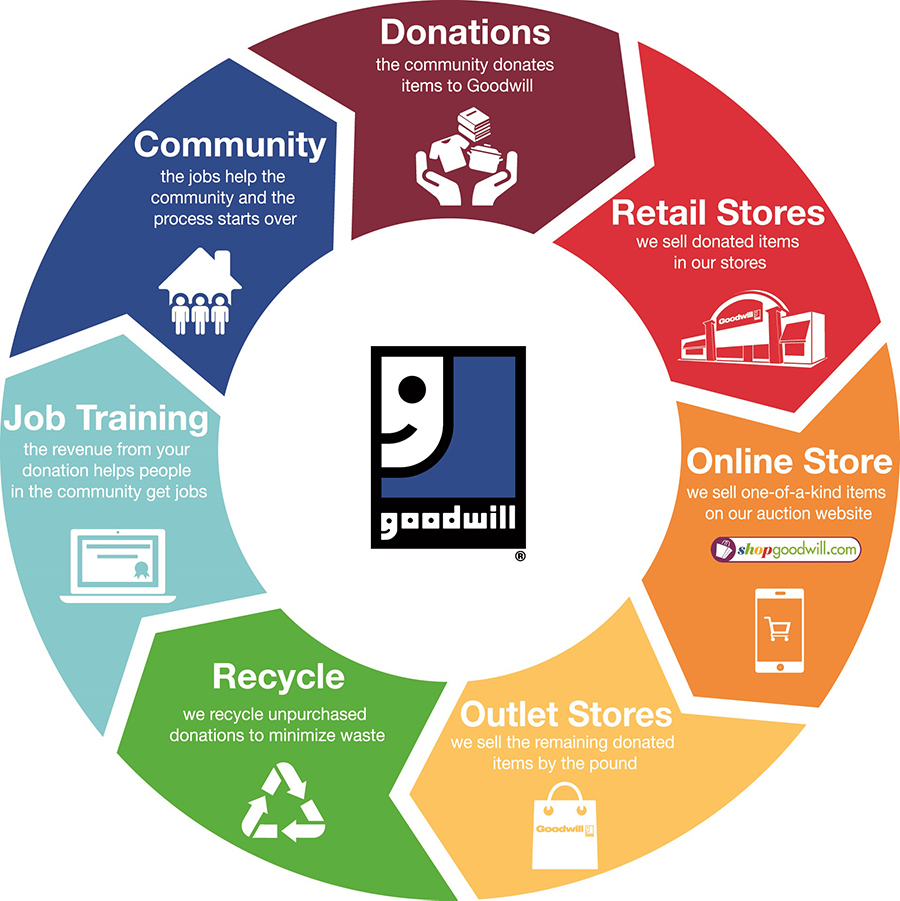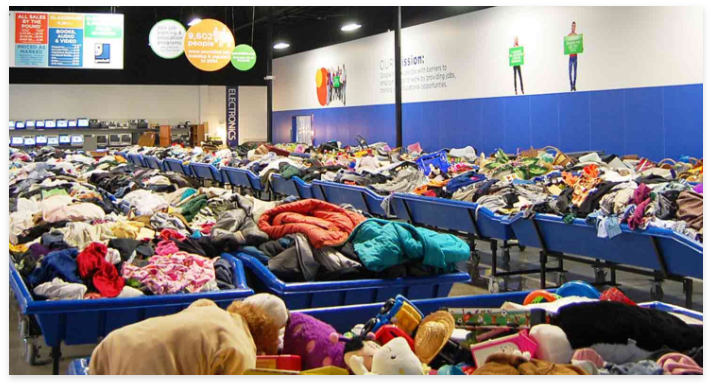 Industry Numbers
It takes more than 5,000 gallons of water to produce the amount of cotton needed to produce one t-shirt and a pair of jeans. World Wildlife Fund 
More than 70 million trees are logged every year to create textile fabric. Forbes/Zady
Nearly 70 million barrels of oil are used each year to make polyester. However, polyester takes more than 200 years to decompose. Forbes/Zady
The Environmental Protection Agency estimates that the average person throws away 81 pounds of clothing per year. That adds up to 3.8 billion pounds of unnecessary waste added to our landfills. EPA