Our Mission
Changing lives and communities through the power of work.
Our Vision
The leader in the nation helping people achieve self-sufficiency.
Our Values
Integrity – We are honest, transparent, and accountable in our decisions and actions.
Stewardship – We commit to being socially, environmentally, and fiscally responsible with community resources.
Innovation – We continuously learn, embracing creativity and change.
Excellence – We continuously improve and deliver high value results.
Respect – We treat each other with dignity and fairness, value diversity, and commit to a safe environment.
---
---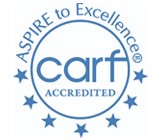 Goodwill of Greater Grand Rapids has the highest level of accreditation from CARF, an independent, nonprofit accreditor of health and human services.
---
History
Goodwill was founded in 1902 by Rev. Edgar J. Helms, in Boston, MA. Helms created the Goodwill philosophy of "a hand up, not a hand out" when he collected used household goods and clothing being discarded in wealthier areas of the city, and trained and hired people to mend and repair the used goods for resale. The original concept was so visionary that it is just as relevant today as it was over 115 years ago.
Locally, community leaders and United Way officials formed Goodwill Industries of Greater Grand Rapids in 1966 to serve people in Kent County. Goodwill of Greater Grand Rapids provides no-cost career services to community members who require assistance connecting to jobs and landing meaningful employment. Every year, we serve our communities by providing them with the knowledge, skills, and confidence they need to achieve self-sufficiency for themselves and their families.
Goodwill of Greater Grand Rapids is a member agency of Goodwill Industries International. Goodwill Industries International has 158 local organizations in the United States and Canada, and a presence in 12 other countries dedicated to addressing poverty and unemployment for people with disabilities and other challenges to finding jobs.
For more information about Goodwill Industries International Inc., visit www.goodwill.org.